The type of saffron is based on the trim of the saffron thread. The six types of our saffron are: 
Saffron Powder Vs Saffron Threads
Saffron is the world's most expensive spice, so when you use it, you have to use it correctly. You'll find saffron in two forms, threads and powder. Saffron threads are the whole stigma from the saffron crocus, while saffron powder has been gently dried and ground. Any form of saffron you choose, should have high quality and purity, without the addition of paprika, turmeric or other spices.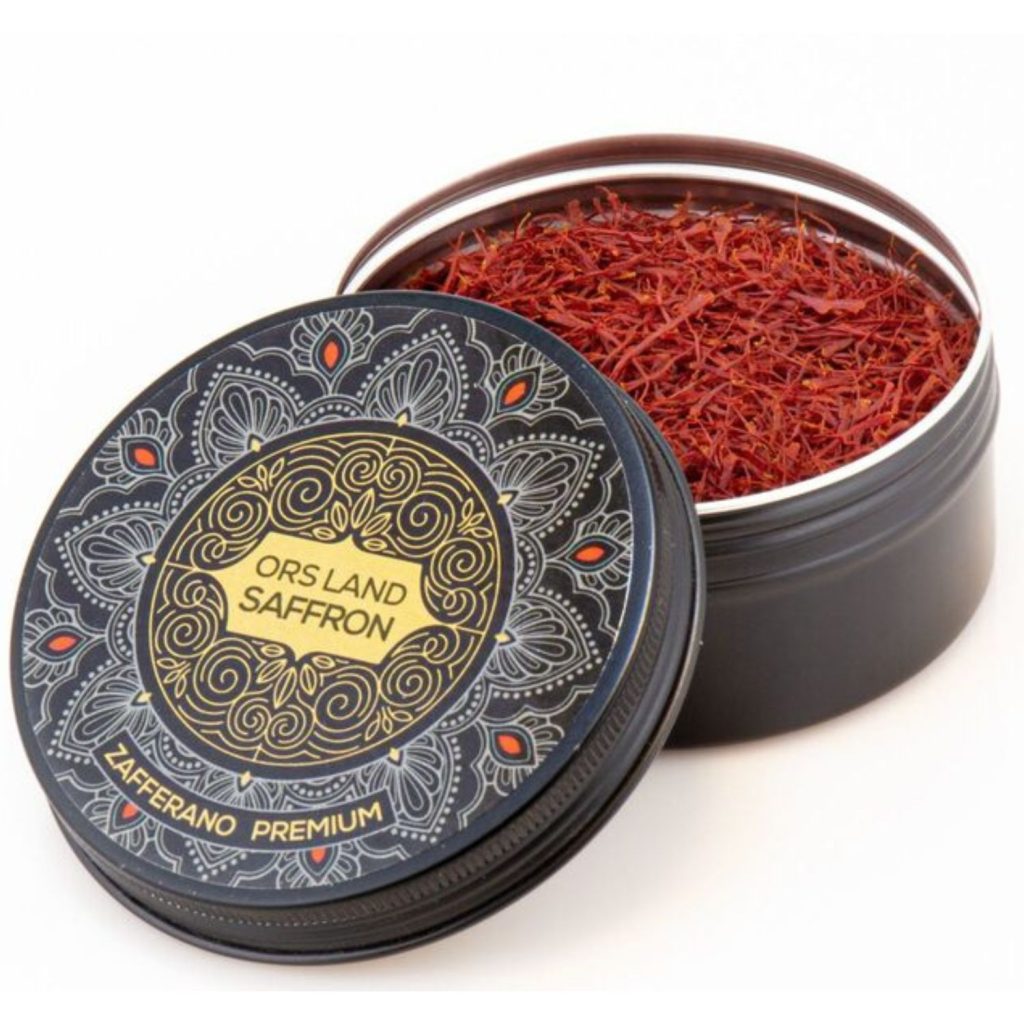 Saffron Threads are the dried stigmas of the saffron crocus flower. You cannot just add saffron threads to your dish because the threads need heat to activate their flavor and color. To draw out saffron color and to distribute it evenly throughout the dish, you can add saffron threads in a little warm water, stock, milk or white wine for about 30 minutes before using. Then add the liquid to the dish, usually towards the end of cooking.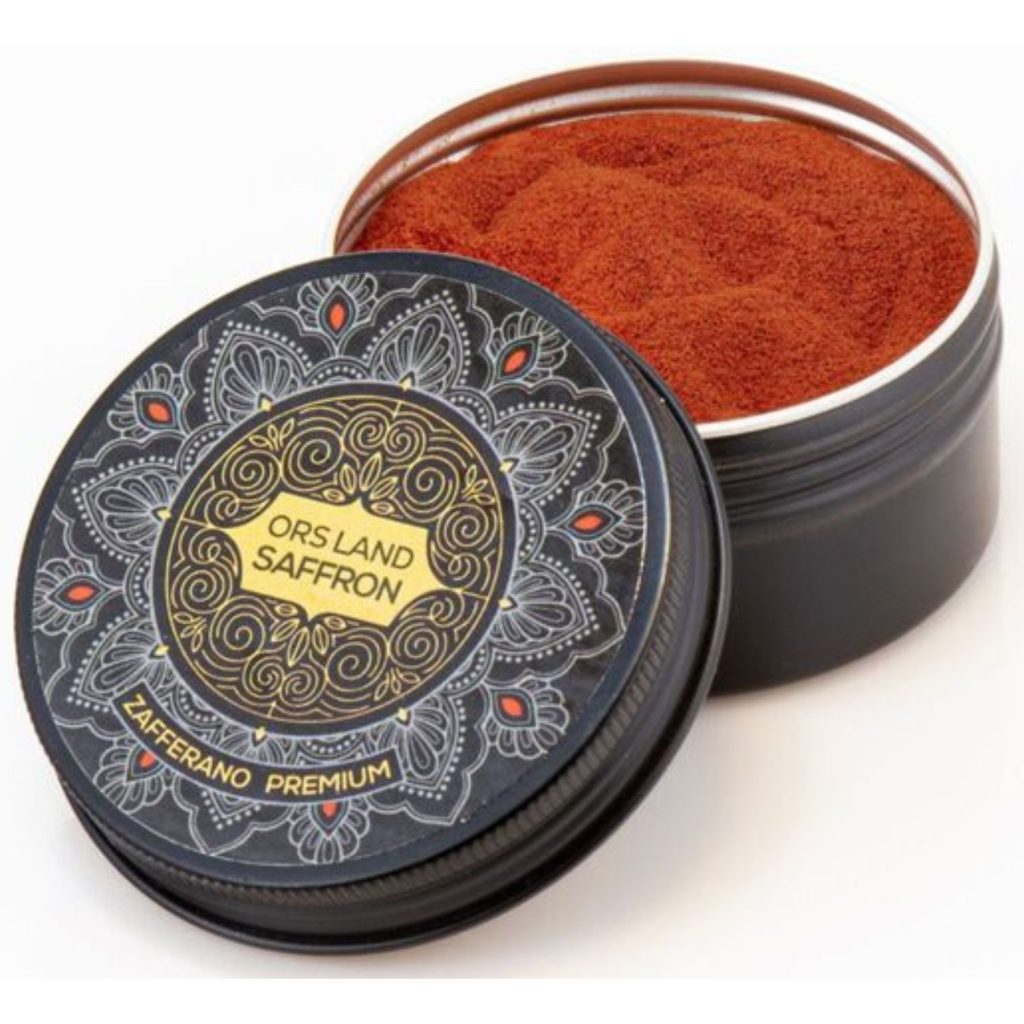 Saffron Powder is just plain saffron threads grounded and made into powder form for easier use. Use a mortar and pestle to crush the saffron threads or grind saffron threads to make it into powder. You can add saffron powder directly to a dish without toasting or pre-soaking. Because powdered saffron dissolves easily into foods, evenly flavoring the entire dish. Use half the amount of powdered saffron if your recipe calls for saffron threads. While saffron powder provides the rich gold color associated with risotto alla milanese and other dishes, there will not be any visible threads in your finished dish.
Sargol: means "Top of the flower". This grade consists of ONLY dark red stigma tips and it has the highest quality compared to the other types of saffron because of lacking the Yellow or Orange threads. Due to the accumulation of saffron`s active components in stigmas, Sargol has a very strong aroma and rich coloring capacity. Sargol is easily recognizable thanks to its full and deep red color and short threads. Moreover, pure Sargol saffron has no broken stand.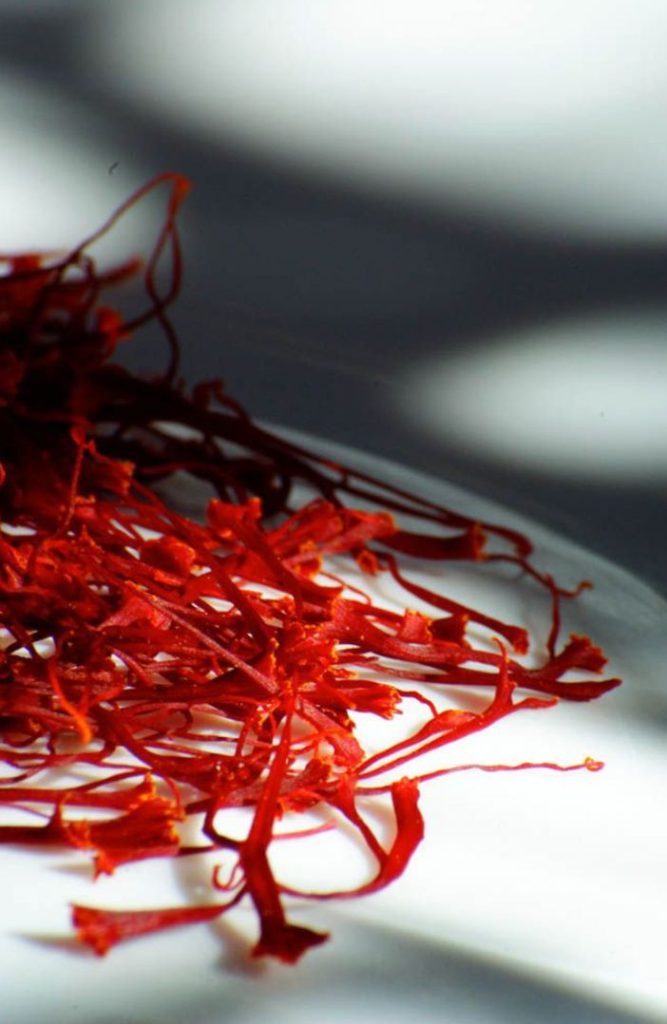 Super Negin Saffron has the highest demand between all types of Saffron. Actually, the reason that Super Negin saffron has such a high request is not only for having high quality but also for its beautifully pleasing features. Super Negin thread length is longer than Sargol and shorter than Negin. But, it still is all red and contains no yellow or orange threads. The threads cuts are symmetrically and contain no crumbs.
Negin is longer in length and contains some yellow and orange portions of the thread comparing to Sargol and Super Negin. Because three stigma threads are attached together and form a cluster in this type, it has an aesthetically pleasing form and its production is a really delicate and precise manual skill. Negin type is one of the most expensive type of saffron and very limited to offer. Even though it has some yellow and orange thread the aroma, quality, and purity of Neging are still great.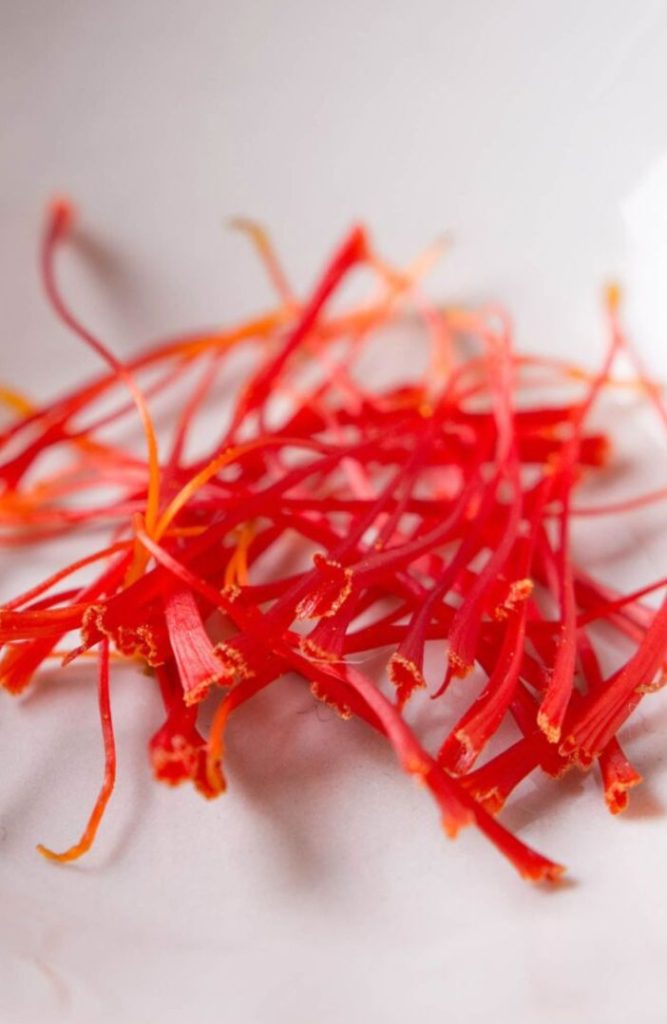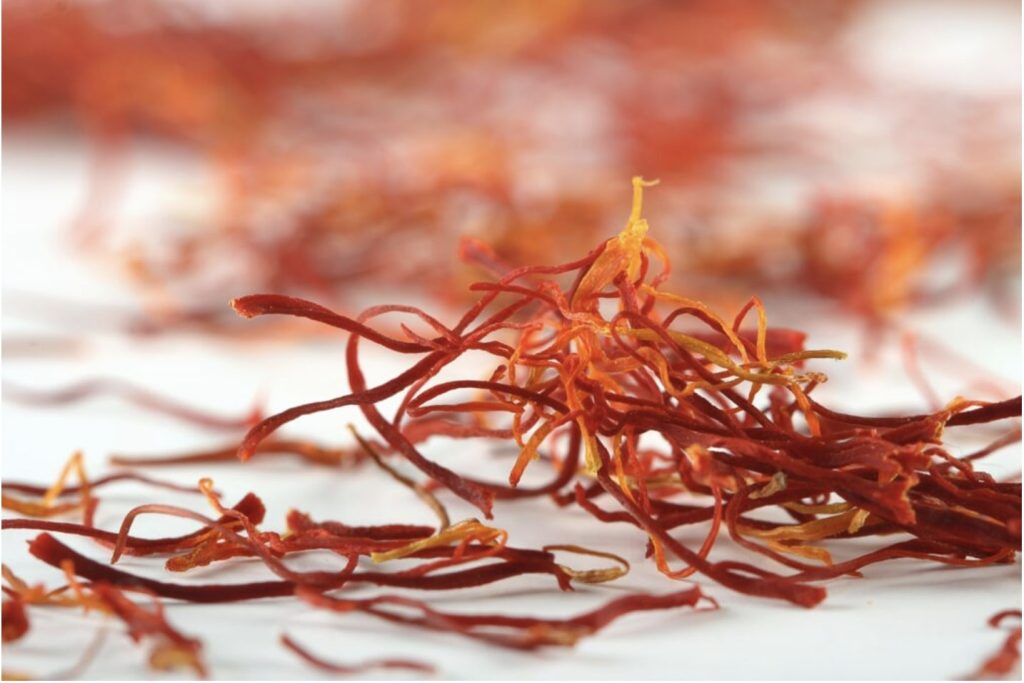 Pushal saffron is the stigma part of the plant attached to a 1-3 mm style end and it is the cheapest and most commonly sold Saffron trim in stores. Since Saffron is so expensive, many distributors take advantage of consumers by selling them the orange and yellow portions of the thread. Since these yellow parts of the stigma has less value, consumers end up paying much more for an inferior product. But still, some consumers prefer to purchase Pushal even though Pushal does not have Sargol`s pure texture and premium quality. But at the end they are sure about its validity and authenticity, .
Konge, Style saffron, White saffron, Konge saffron, is one of the cheapest and lowest quality of  saffron types. After removing "Negin" from "Bunch saffron", the remained root part of the strands is Konge or Style Saffron and it is classified in the category of red and yellow or yellow saffron. The biggest difference between Style Saffron with other types is the filaments in the yellow part. Because of yellow filaments, it has the least Crocin and Picrocrocin  in lab reports(which are the reasons for the Saffron color and taste) comparing to other types of saffron. Consequently, Style (Konge) is mostly applied for medicinal usages or when we only need the aroma.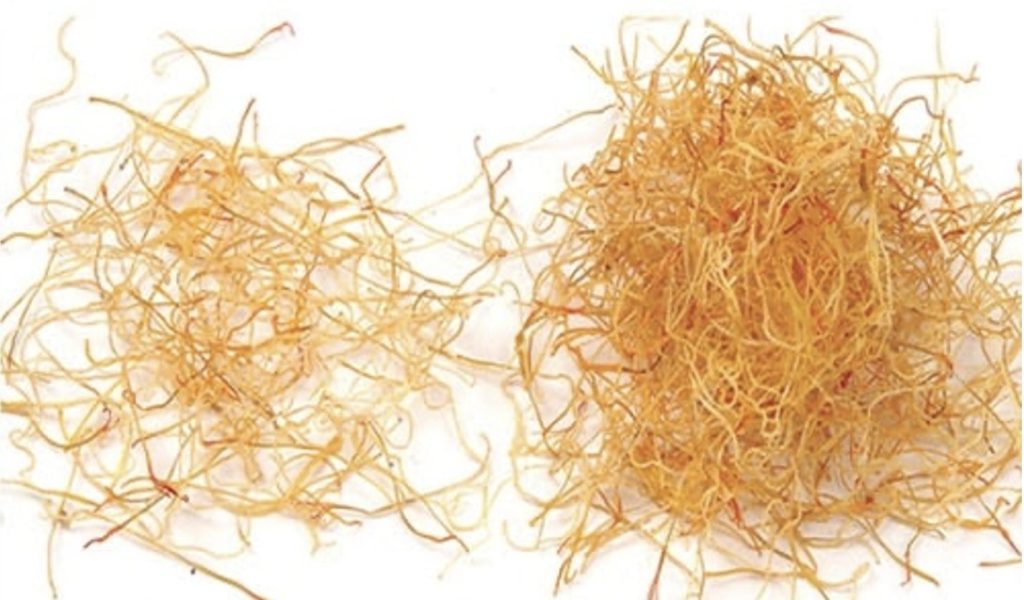 Bunch is the first product of saffron threads and it is the most common method of trading among farmers and producers. In this type the red part is about 70% to 75% and the style is about 25% and 30%.
It has a variety of names, including Daste Pitsch, Khooshe, and Dokhtar Pitsch which literally means screwed by a girl!
For collecting it, farmers collect the Saffron stigmas associated with cream together to form a cluster. Then, they use a strand to wrap the cluster from the middle part and dry it without any change in the cluster. Bunch or Daste is used to collect Saffron Coupe, Saffron Thread and Cut Saffron.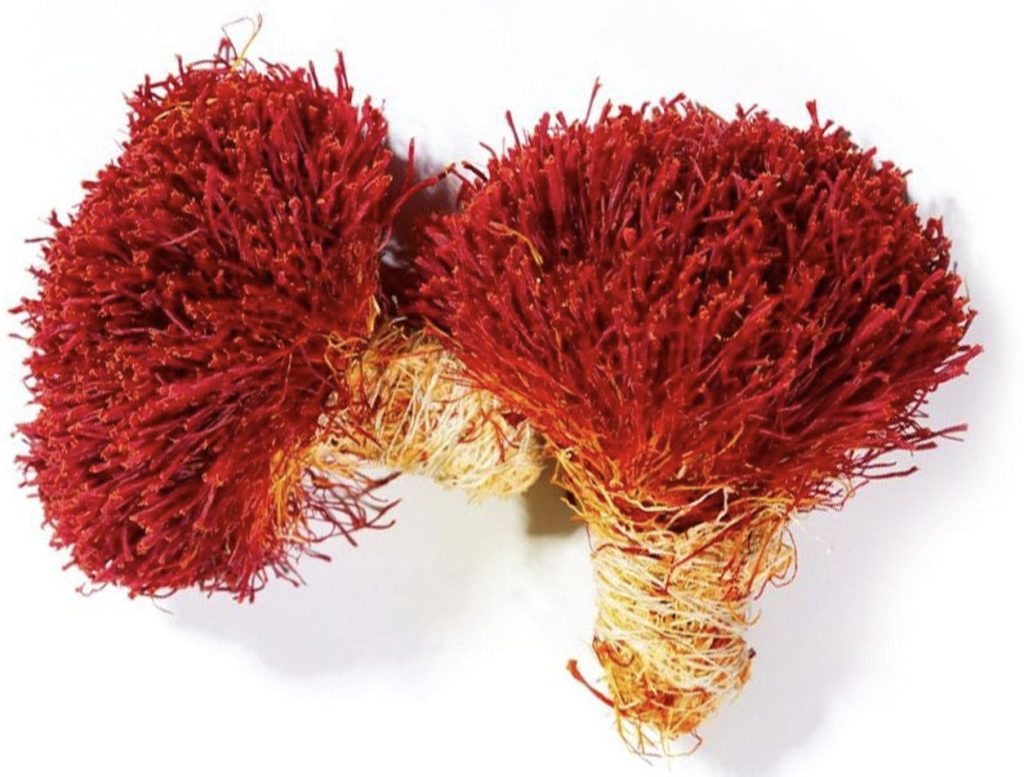 The high quality of Saffron is always guaranteed as long as a reputable and trusted source provides it. Our product thanks to its extremely appropriate situations, such as: Climate, Topography, Soil, and Organic Harvesting methods, holds a reputation of High Quality Saffron production.